PLEASE WELCOME ED McGEE, PRODUCTION MANAGER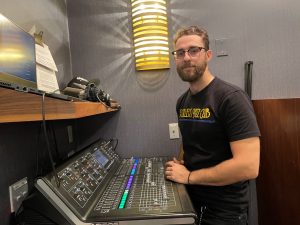 Ed McGee, Jr., our new Production Manager, brings with him a wealth of experience, providing audio engineering for all genres of music.
Ed graduated from the top college for anyone wanting to have a career in audio engineering and received his Bachelor of Applied Science/Live Production from Full Sail University in Winter Park, Florida.
Please be sure to say hello to Ed when visiting Scullers.
Welcome, Ed!
MARLA KLEMAN NAMED ARTISTIC DIRECTOR-SCULLERS JAZZ CLUB
Effective August 4, 2022, Marla Kleman, whom most of you already know, will be taking over as Artistic Director at Scullers.  Marla has been with Scullers for 10 years in August and has grown in her role through her time here.  The club is confident that she has all the hands-on knowledge needed to hit the ground running and will take great care of you all with no lapses in contact. Marla is a true jazz fan and aficionado and the club will be in good hands with her.
You can reach Marla at Marla.Kleman@hilton.com should you have any questions.